Financial Literacy
Main Content
Learning to manage a budget may be one of the most important life skills a student needs for success.
SIU students can gain budgeting and other financial skills through iGrad, an interactive, online program that will help them learn how to take control of their finances. Access to iGrad is just one of SIU's growing efforts to help students become financially literate, manage their overall financial situation and remain in school.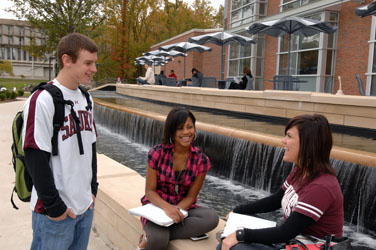 The university is also working to help students minimize debt by returning to a lower threshold of debt they may owe before they can register for the next semester's classes. Beginning Oct. 1, 2015, students with a past due balance greater than $200 will not be allowed to register until they pay any funds owed the university above the $200 threshold.
"A few years ago, we raised the threshold believing that it would help students stay in school," said university bursar Jill Kirkpatrick.  "Instead, it had the opposite effect. We saw more students get into a larger financial hole with no manageable way to get out to continue their education. We believe that this change and our ongoing financial literacy efforts will encourage students to stay attuned to their budgets and remain on track financially."
She added that the $200 threshold is aligned with Federal Financial Aid guidelines and reflects the practices of many peer universities.
Kirkpatrick said there are a number of ways students can manage their debt. Following are a few brief tips family members who support them might offer.
Lower expenses: There are a number of mounting expenses that college students accrue from semester to semester than can contribute to financial strain as the years go by. Those living off campus should consider the benefit of downsizing their space or getting a roommate to reduce costs. This includes not only sharing living space, but physically sharing a room if possible. Also, students should pay attention to supermarket expenditures, opting for store brand items, using coupons and planning meals to avoid a ratcheting budget and too much waste.
Rely on cash, not credit cards: Students who have credit cards (an amazing 63 percent of Millennials do not!) should establish good habits about using them now. College students are notoriously low on funds, and the appeal of "free" money in the form of unsecured credit card debt is no doubt alluring when you really want a takeout pizza or new laptop. However, the credit card debt accumulated now will only compound the often ignored student loan debt that may be accruing simultaneously. Students should learn how to rely on cash for everyday and splurge purchases. Those who must use a credit card, particularly in cases when they know they cannot pay it off right away, should make sure that it is for needs, not wants.
Look for free ways to have fun — on campus and off: A great way to save money and still keep the social calendar full is through free events on campus. From concerts and job fairs to lectures and rallies, a lot of activities that take place each semester are free to students. Student should take a look at the university's calendar of events to generate some ideas. They can also consider volunteering; it's a great resume booster.
Get on top of summer internships and part-time jobs: Another great way to boost that resume while also earning some income is through paid summer internships. Unfortunately, many of the best opportunities fill up first. Therefore, students should take some time now to look into potential internship options. Another option is to spend time before school starts looking for a part-time job, particularly one even loosely related to the student's field of study.
Pay off debt now: The average graduating senior in the class of 2014 had accumulated $30,000 of student loan debt. Even at the low interest rate offered by the federal government, that kind of debt means payments of around $400 per month post-graduation. However, many college loans (even federal ones) accumulate interest while the student is in school — regardless of whether he or she is actively repaying them — thus increasing the total amount owed upon graduation. To help relieve the burden in the future, students can make payments towards that interest now. In addition, they can make sure to tackle any other forms of debt, such as credit cards and car loans, so that they free up the budget for those student loan totals after graduation.